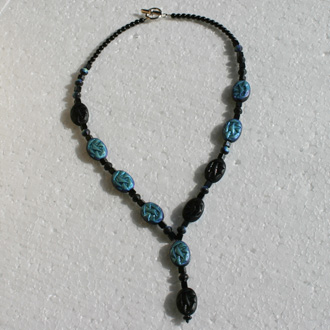 Black AB Textured Necklace
17-3/4 + 2-1/8"
This Y-shaped necklace features matte black oval glass beads with geometrical designs pressed into them and AB coating on one side, plus black cubes and rounds, and black rondelles with AB coating on one side. The oval beads are free-turning, so they can be flipped to show only black or only the AB coated side or randomly flipped, as shown.
I don't have any more of these particular beads, but I may still be able to obtain similar beads, plus this layout could look good with other flat beads. Contact me about what you're looking for and I'll see what I can do.