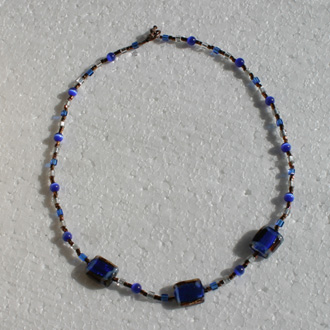 Blue Bronze Necklace
20-1/4"
Topaz foil-lined glass with bright blue and a bit of white in a flat rectangle shape are combined with blue fiber optic rounds, blue and clear silver lined squares, and bronze octagon seed beads. Copper crimps and copper toggle clasp finish the design.
I don't have any more of these particular beads, but you might be interested in a similar design with different beads. Contact me about what you're looking for and I'll see what I can do.