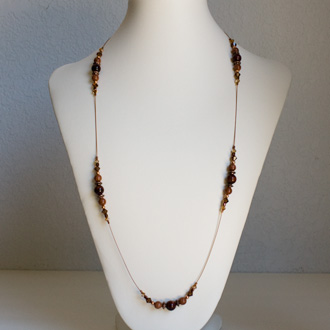 Coppery Necklace
28-1/2"
I never wear clothes in brown shades, but I love coppery tones in jewelry, so one day I was browsing my local bead shop and decided to pick up some red tiger's eye and goldstone beads that caught my eye and combine them with brown and copper crystals and opper beads I had collected over time.
I wanted a long necklace but I didn't want it to be totally crammed with beads, so I strung this design on copper stringing wire and spaced the bead clusters out with copper crimps. I suppose it didn't really need a clasp, since it'll slip over my head with the clasp closed, but with my long hair sometimes it's better to have the clasp to avoid tangles when putting it on.
Goes with these earrings.