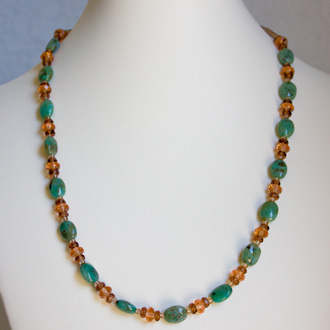 Cuprite with Crystals Necklace
21"
When I found these cuprite oval beads I was instantly drawn to them because I had been thinking about wanting to combine some variation of aqua and brown for a while and they had that built right in by nature! Since I was at a open-to-the-public-only-because-we're-moving sale, I decided to look around and see what else I could find to go with them, and came up with these cognac and peach crystal roundels and tiny sepia rounds.
I tried a bunch of different combinations of the beads in necklace designs off and on for many months but was never quite satisfied, and kept putting it aside. I finally sat down one day and whipped up a pair of earrings using the same beads. Immediately after finishing the earrings I designed and completed this necklace and a different layout that had been lying around abandoned in the tray.