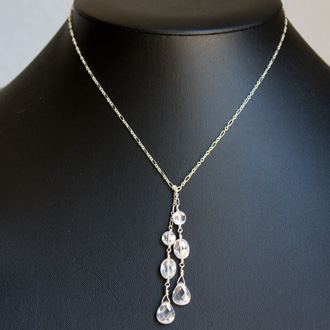 Cubic Zirconia Drop Wrap Necklace
21"
Sometimes when I watch a TV show or movie I find myself captivated by the jewelry the actors are wearing. I saw something vaguely like this on Molly Quinn on Castle, tried to get a better look freezing frames when episode was available online, and decided to make my own version, which is probably not all that much like the necklace she was wearing, since I never got a really good look at it.
The crystals are cubic zirconia, the chain is sterling silver, and the wire connecting the crystals is Argentium silver because I didn't have any sterling silver in the right gauge. The overall stretched length of the necklace is 21". Since it's a wrap design rather than clasped, the worn length varies a bit depending on how you wrap it.