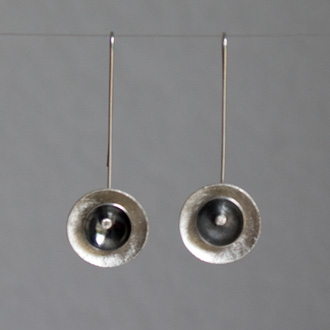 Domed Tube Set Earrings
2"
These are another design that started out with one idea, but ended up quite a bit different than I had originally envisioned. The original design included a larger, flat disc with a pattern around the edge behind the stack of domed rounds. Also, the inside dome was supposed to be convex. But when I oxidized and tumbled the inner domes the color came out so beautiful on the inside that I had to use them in the convex positioning instead. And the larger flat round just didn't look good when I put it together with these two domes, so I scrapped them.
This was my first attempt at using the "cheaters" technique of tube setting the tiny cubic zirconia stones. They came out pretty wonky. I hope to do proper tube sets to replace these someday, but for now, I'm quite happy with the overall results on these earrings. I just wish that they photographed better.