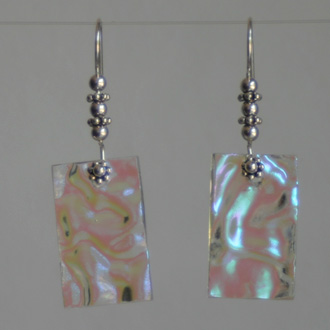 Dichroic Waves Rectangle
1-7/8"
It's hard to photograph the amazing color/light play on the rippled surface of these dichroic beads. They flash quite nicely mostly in shades of blue and green in person. The earwires are sterling silver, as are the tiny round beads and the bali spacers. I wasn't thrilled that the left one leans the way it does, but handmade beads sometimes have their holes slightly off center, so hey, it looks handmade!
I may still be able to obtain these beads. Contact me if you're interested in some variation of this and I'll see what I can do.