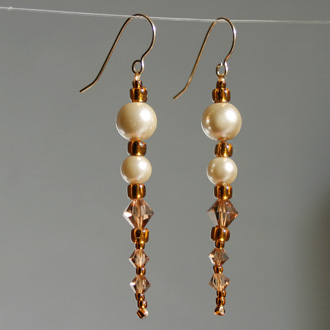 Golden Smoky Rootbeer Earrings
2-3/8"
Golden glass pearls with light smoky topaz Swarovski crystals and rootbeer seed beads on gold-filled earwires all strung on beading thread. They're made to go with the Golden Smoky Rootbeer Necklace and the design is from 100 Beaded Jewelry Designs by Stephanie Burnham.
I still have these exact beads or I could possibly make something similar (although I'd string on beading wire instead of thread for more durability) in other colors.
Contact me
about what you're looking for and I'll see what I can do.