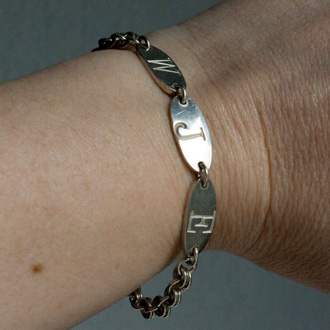 ID Bracelet
7-1/4"
In my first official advanced metalsmithing class Steven asked us to come up with our own idea of an ID bracelet for our first project. I made this. The letters stand for Willow, Jamey, and Eli, the three most important beings in my life.
I first stamped full names on the backs of these ovals, but they came out wonky, so I used this really cool set of old larger letter stamps to punch just the first initial of the individual spelled out on the back of each oval. The initials didn't come out exactly right either, but I still love it, imperfections and all. (And now I know next time to stamp the letter, then mark the shape around it and cut it out!)
I decided it needed a substantial chain, but I didn't want big open links, so I did a double/single pattern with the jump rings that worked out surprisingly well. It was my first venture into soldering such small chain, and I'm really happy with the results. I made an S-clasp which isn't soldered on, so it can be opened/closed from either end.