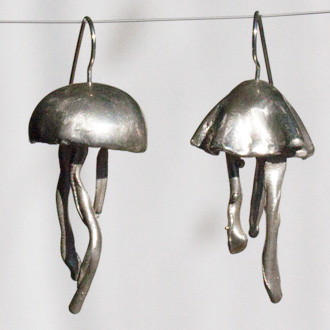 Jellyfish Earrings Version 2
1-7/8"
I tried a second round of jellyfish earrings in one of my full-semester metalsmithing classes. This time around I tried two styles. Only one of each style survived the casting well, so I ended up with an asymmetrical pair of earrings.
These came out with a much nicer surface on the bells, since I put the channeling wax on the inside. They are also much lighter than the previous pair since I ground out much of the metal left from the channels on the inside. I still want to try one more casting. I hope to make a smaller pair of the rounded bells since these are pretty large.