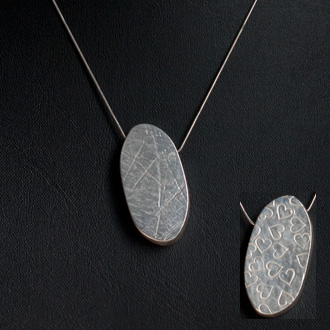 Lovecats Pendant
1-7/8"
This was my first hollow form project in my metalsmithing classes. It's not a true hollow form, however, because when I drilled the holes through the sides to fit the tubing in before closing it up the holes ended up slightly too big for the tubing, so I just left the holes without the tubing to slip the chain through. That actually resulted in one of my favorite things about this pendant—a couple of tiny porcelain balls from the tumbling got trapped inside, so when I shake it I can hear a tiny bell sound.
If you're wondering, yes, I made it so it hangs at an angle on purpose. I have several different lengths of commercial silver chain I wear it on, depending on what works with my outfit.
The pattern on one side (central in the photo) is made from putting some of Eli and Willow's shed whiskers through the rolling mill. The metal also picked up some texture from the tape, but the deep groves are whisker marks. I love this texture because it's made from my favorite two kitties ever. The other side of the pendant (shown lower right) has a pattern I made by using some plastic mesh (from a bag of cherry tomatoes) in the rolling mill and then randomly stamping hearts over that. I mostly wear it with the whisker side out, since I think that's such a cool texture.
I also made earrings from the scrap metal which I often wear even when I'm not wearing the necklace.