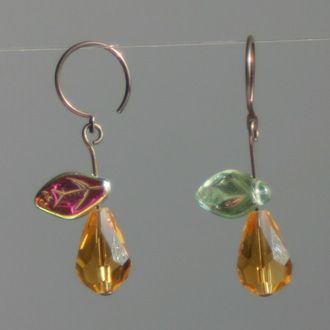 Pears on Niobium Hoops
For these pear earrings I wanted a bit of stem, and what better than bronze niobium to act as a stem? Then I hung them from pre-made niobium hoops. The leaves swing freely, and are transparent light green on one side with an AB coating on the back, making the left one in the photo appear pink.
I don't have any more of these particular beads or the hoops, but I may still be able to obtain similar materials. Contact me about what you're looking for and I'll see what I can do.