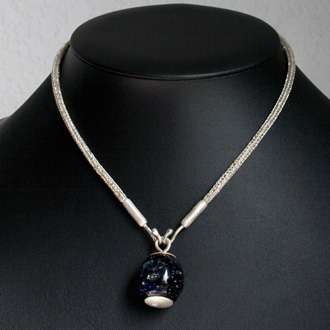 Space Pendant
1-1/4"
When I was deciding what to do with the woven wire chain I had made I remembered that I had this beautiful Japanese lampwork bead that my Mom had helped me buy at a bead show a while back. I figured I could make the necklace to be worn alone with the clasp hooks in the back, or the hooks could be worn in front with this bead as a focal pendant.
I made two textured slightly domed rounds for the top and bottom. I soldered a 14 gauge wire to the inside of one dome, and drilled hole in the center of the other one, then I slipped the bead on the wire, popped the drilled dome on top, and bent the remaining wire into a loop. Presto!
Reminds me of the kitty in Men in Black who had a whole galaxy hanging from his collar.