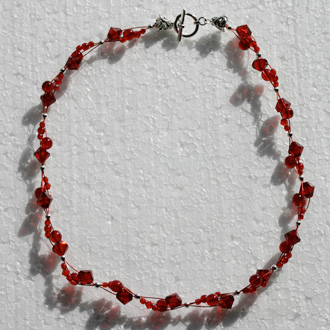 Twisty Red Necklace
17-1/4"
I found this design in the book Beaded Necklaces from Bead & Button Books, done in black. I decided to do it in red when I found the red wire. Features 8mm and 4mm Swarovski bicones, 6mm and 4mm Czech druk rounds, 3mm Czech crystals, and sterling silver rounds. The toggle and cones are silver plated pewter, since I couldn't find nice sterling cones at the time. The design didn't call for cones, but I couldn't get the wires to all fit through one crimp as the design called for, so I needed to hide the mess of wire ends.
If I ever make a necklace inspired by this I will change the back to something simple. Having lumpiness against the back of my neck isn't very comfortable, and I suspect a lot of people would feel the same.
I also whipped up a pair of earrings to go with it.