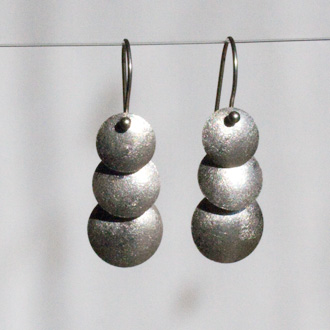 Circle Stack Earrings
1-1/2"
After making the Domed Earrings, I was hooked on domed circles and came up with this design. I had hoped that I could attach the wire behind the top dome so I could maintain the unbroken surface, but that turned out to be too dangerous for the delicate balled pins that hold each dome in the stack. I'm happy with the way they look even though it's not quite what I originally envisioned. Since each dome is hanging from a pin, there's a lot of movement to these, which I love.
These were a huge challenge to make. Because they're such a hassle to make, I would not make this for a custom order.