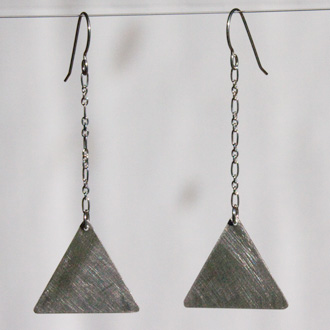 Chained Triangle Earrings
2-1/2"
When I originally worked on the Drilled Triangle earrings I was going to make them this size. After that soldering disaster, I made them much smaller. But I still liked the large size, and a few weeks later I saw someone wearing large triangles dangling from long chain that I thought were quite striking, so I went back, cut out another pair of these larger triangles, and went with a simple sanded surface to catch the light when they swing on their chain.
I could make something like these for a custom order. Contact me if you're interested.