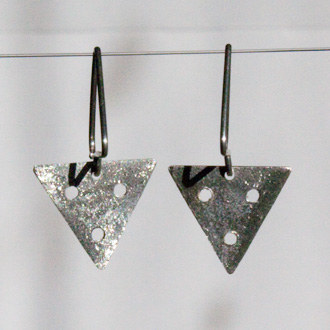 Drilled Triangles Earrings
1-1/8"
After making the Rectangles with Stamped Circles earrings I decided to make a series of earrings based on the idea of geometric shapes with circular decorations. This was my triangle design. Originally I made much larger triangles and attempted to solder on balls of fine silver. Initially I thought it worked, but I realized I needed to recenter the balls and resoldering them went horribly wrong, ending up with unpleasantly reticulated messes, so I tried again and went for a drilled decoration instead. I also made up these triangle earwires to reinforce the triangle shape. I also made a square design for the series.
This is a design I could replicate as a custom order. Contact me if you want a custom design based on this.