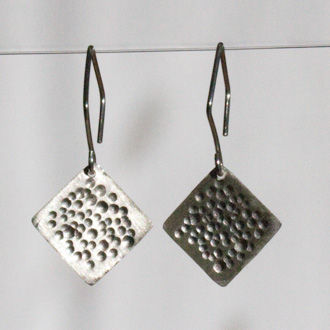 Dimpled Square Earring
1-3/8"
This was my square design for my series of earrings based on the idea of geometric shapes with circular decorations. I made random dimples in the silver with 3 different repoussé tools and then made square earwires to hold them. You can see the rectangle earrings that inspired the series and the triangles too.
This is a design I could replicate as a custom order, although if you want a stamped surface, I'll need to still be taking classes in order to have access to a torch to anneal the metal for stamping. Contact me if you want a custom design based on this.