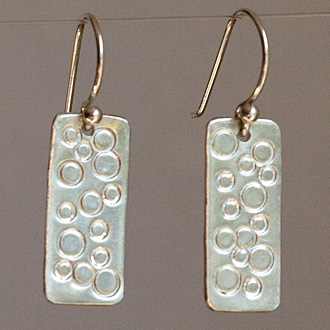 Rectangles with Stamped Circles
1-1/4"
I bought some cheap nail-setting punches and tested how they worked as circle stamps on a scrap of sterling silver sheet. I liked the look of the test strip, so I made another to go with it and turned them into these simple earrings.
These earrings became the inspiration for a series of earrings, each with a different geometrical shape featuring a different type of circular decoration. Check out the other designs I've done so far: square and triangle.
This is a design I could replicate as a custom order as long as I still have access to my metalsmithing class to anneal the sheet metal for stamping. Contact me if you want a custom design based on this.