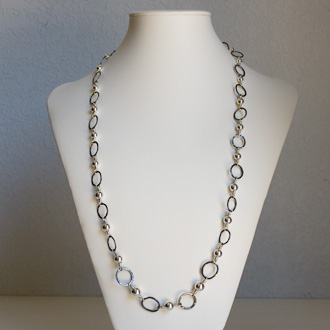 Chain of Hammered and Oxidized Rings with Argentium Silver Beads
27-1/2"
When I made my Two Hoop Chain I screwed up on a batch of the larger rings so they came out too small and slightly oval. The next semester I decided to go ahead and solder these rings, then hammer and distort the shape. Once that was done I oxidized and tumbled them and got a lovely gunmetal finish.
I wanted to combine them with unoxidized silver, but I was stuck. Since I had oxidized them already I couldn't solder them together with other links to make a chain because I would lose the oxidized finish in the pickle.
Then I came up with this idea. I connected the oxidized rings by wirewrapping graduated sizes of Argentium silver beads using Argentium silver wire between them. This way the beads and wirewrapping should stay shiny and provide a long-lasting and beautiful contrast to the rough texture and oxidization of the rings. I'm really proud of this one.