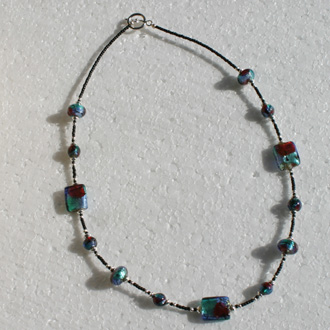 Red Blue Teal Necklace
20-1/2"
Foil beads with splashes of red, teal, and blue shaped as flat rectangles, cushions, and round beads strung with matte black seed beads and silver saucers on beading wire. Finished with sterling crimps and toggle clasp. I made two pairs of earrings to go with this out of the Cushion and Rectangle beads.
I only have the round and cushion shapes left of these main beads, so I can't replicate this design exactly, but I may still be able to obtain similar beads. Contact me about what you're looking for and I'll see what I can do.