A little bit about me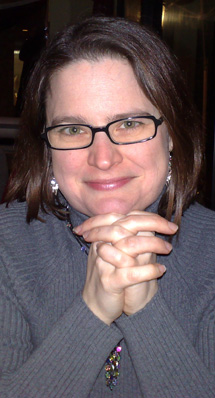 I suspect that most of my site visitors are folks who already know me, and probably already know my story, but in case you're visiting at random or because someone you know told you to check out my stuff, here's a brief bio of my jewelry work.
I started making jewelry in 2006. I had taken a new job in summer 2005 which required me to dress "business casual" for the first time in my life and I felt like I needed some pretty but inexpensive jewelry to go with the new clothes. I bought a few things, but I didn't find a lot of stuff I liked and could afford. Then I started looking more closely at the pieces I did buy and thought I could probably make things like that myself. So in January 2006, I took my birthday money from Dad and went on a quest to start a new hobby.
Fortunately, I met a woman in the aisle of one chain craft store who told me about an actual bead shop not to far from my home (the store has now moved, but I still shop at Just Bead It occasionally). I headed over there and the father of the wonderful family that owns the shop showed me how to make a basic wire loop and how to use a crimp tube and I passed the rest of my weekend there and at another local bead shop spending all of my birthday money on pretty beads, supplies, and tools.
I started wearing my homemade necklaces and earrings to work and my co-workers asked me to make pieces for them. I've made custom pieces for family members, friends, co-workers, friends-of-friends, and even one total stranger who emailed me after seeing my pictures on Flickr. I've never really seen this as a business for me, however. I can't imagine investing the kind of marketing time that would be necessary to actually make a living at it. And I'm afraid that I'd burn out on it. I've already found myself incredibly bored at making the same basic design for several different people. So I'm keeping it small-scale so I can still enjoy the creative process. (I should note here that I never make the same design exactly the same way twice unless someone requests a set of exact duplicates. I want each piece to be unique, so there's always some variation, even if the change is so tiny that it's unlikely anyone else would ever notice.)
After spending a couple of years just making beaded wire jewelry, I finally took the plunge and signed up for a jewelry metalsmithing class in the summer of 2008 at the local community college and found that I love the challenge of learning new techniques to turn silver wire and sheet into jewelry. I continued taking the regular semester courses until I maxed out the ability to repeat a course. I really miss the class, but haven't yet plunged into setting up a metalsmithing studio at home. You can see some of my class pieces in the Inspiration Gallery.
I hope you enjoy looking around at my website. If you're interested in buying something in the Available Gallery or requesting a custom design, I'll be proud to share my work with you.
I love wearing my own jewelry, but I get an even better feeling knowing that others are enjoying feeling pretty from wearing my work. There's nothing like a shiny little bauble to give a little boost to your day.