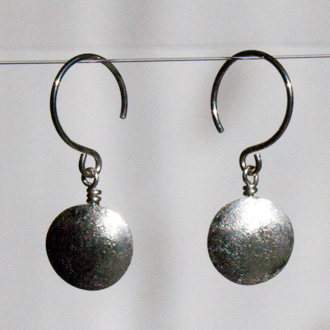 Stardust Circle Earrings
1-1/8"
I find myself drawn to circular designs in my metalsmithing classes. After making the Domed Earrings, I set out to make the Circle Stack Earrings. In the process of making those, I accidentally deformed two of the domes, so I made them into these earrings instead. I used my favorite texture tool that produced this "stardust" finish which does a lot to mask the doming mistake I made. I ended up using the same texture on the Circle Stack earrings too, so these accidental earrings ended up being very valuable in the making on the Circle Stack earrings.
These were a big pain to make, because the domes want to tip forward, so there's a weird series of loops and wire and nonesense behind the dome to keep them upright. Because they're such a hassle to make, I would not make this for a custom order. But if you like the look and want flat stardust surface circle earrings, then I might be able to help you. Contact me about your interest.